Episode 2
Jan 16, 2021
Cal and Cathy welcome Davonna Willis, entrepreneur and massage therapy educator. Davonna moderates a social media group for Black massage therapists and is here is talk about racism in the massage industry (and in life), the benefits of a safe space to share, and what white folks can do to support our Black colleagues. (There's a hint in the title.)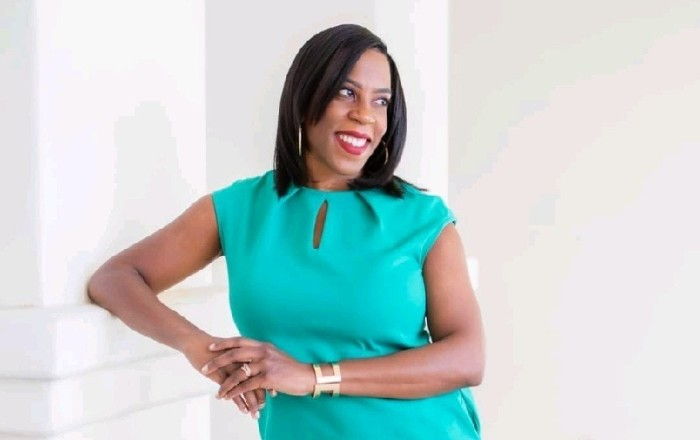 Cal and Cathy welcome Davonna Willis, entrepreneur and massage therapy educator. Davonna moderates a social media group for Black massage therapists and is here is talk about racism in the massage industry (and in life), the benefits of a safe space to share, and what white folks can do to support our Black colleagues. (There's a hint in the title.)
About Our Guest:
A respected health and wellness practitioner and an acclaimed entrepreneur and educator, Davonna Willis is a passionate advocate for her clients and students.
As CEO of Blue Skyes Massage & Wellness Center, Davonna is committed to establishing and sustaining high quality standards of care in the industry. As the leader of an award winning practice, Davonna is widely known as someone who cares deeply about client relationships and practitioner integrity.
Davonna also owns 4 Nineteen Education & Training (http://www.4nineteeneducation.com) where she teaches a variety of massage curricula and also offers consulting on marketing and strategy to new business enterprises.
With a MA from Columbia University and a BA from Xavier University, Davonna has over 20 years of experience in the field of health and wellness. Starting in the Bronx and moving her way west, Davonna is a well rounded business professional especially accomplished in the area of holistic physical rehabilitation therapy.
Davonna is committed to the health and recovery of her clients and to the development of her colleagues and students. She is an advocate in elevating the way massage is perceived in society so that people fully recognize the power of healing in an expert's human touch.
About Interdisciplinary:
In this podcast, massage therapy educators, practitioners and positive deviants Cathy Ryan, RMT and Cal Cates, LMT will use research, science, experience and humor to explore the broad landscape of health care through a truly interdisciplinary lens. We will be joined by compassionate, self-aware humans who are actively participating or are interested in participating in interdisciplinary care to have honest, uncomfortable conversations about topics like access, racism, death, ageism, ableism, and equity that address the intersection of being a human being and providing quality care, so that we can expand our impact, confidently navigate new challenges, and together create lasting, sustainable changes in health care. You'll always learn something. You'll always laugh and you'll come away better informed and with real things you can do in your own community and practice to create a more compassionate and collaborative system of care for all humans.
Transcript
Cathy Ryan 0:11
Hi, I'm Cathy Ryan here in British Columbia, Canada and this is Interdisciplinary.
Cal Cates 0:17
And I'm Cal Cates, Executive Director of Healwell, where we make massage therapy matter. Interdisciplinary is actually Healwell's healthcare podcast, and massage therapy educators, practitioners, and positive deviants, Cathy Ryan and myself, we use research, science, experience, and humor to explore the broad landscape of healthcare through a truly interdisciplinary lens. You'll always learn something, you'll always laugh, and you'll come away better informed and with real things you can do in your own community and practice to create a more compassionate and collaborative system of care for all humans. We also like to start with a little bit of a pun, so I've got a good one here for you guys today. It's not medical at all in nature, but funny nonetheless. What do you get when you throw a hand grenade on the kitchen floor? Linoleum blown apart. Right, it takes a minute. Oh, right. Right. Um, so... But um, gee, I have to, I have to credit Rebecca Sturgeon, actually, for that one. She recently shared it in a group I was in and I was like, that is genius. How have I never heard that before? So Cathy, what's happening up in British Columbia, over in British Columbia?
Cathy Ryan 1:33
Well, you know, like a lot of places in the world, numbers are up and people are concerned. And I'm doing my best to stay masked and stay healthy and stay away from people except when I'm working. Then I have to get close to people, but they have a mask on too.
Cal Cates 1:55
It's true. Excellent. Yeah, same same here. numbers continue to rise. Certainly more people are getting vaccinated, so that's great. But I was also, I was listening to a story yesterday about particular communities that are skeptical, and certainly that there are different camps of there, there are your early adopters, and people who are like, yes, vaccinate me. And a lot of those, of course, are what we've come to call frontline providers, because they certainly have been directly in harm's way for at least the last year and are relieved to have that option. But people who are sort of waiting to see, you know, do people who get the vaccine have incredible reactions and what should I expect, and then just people who are anti-vaxxers, certainly, but then, in this particular story, they were focusing on the power of individual interactions in terms of educating people about the the imperative of the vaccine, and that, in particular, there's this one Jamaican community that is, actually, there's quite a bit of lore around the vaccine, and that the idea, the messaging in the community right now is that taking the vaccine will sort of bring on the end of the world. And this public health nurse was talking about how, you know, a public education campaign is probably not going to be as effective as peer to peer education. And I think that's probably true for all of our communities that those of us who have been vaccinated can share with people who are a little bit wary, here's what the experience was like, here's how the vaccine affected me, here's why I chose to get it. And I'm also hearing from providers, you know, I'm in the massage world, as well as the broader healthcare world. But massage therapists too, depending on what state they're in, are being told that they can get the vaccine right now. And if they're in private practice, or if they feel a sense that they're not in a particularly, quote, dangerous practice environment, feeling that this ethical conundrum of like, should I be getting the vaccine when other people aren't getting it? And, you know, hopefully, by summer, everyone in America will have the vaccine. So if you get it this week, and someone else gets it three weeks from now, I mean, if you could actually say, I don't want this, I'm gonna give it to somebody who's 75 or who has the health condition or whatever, you know, I might say, yeah, you know, maybe you should wait, but if you don't get it, someone else will get it. And in the end, we all need to get it. So, you know, I think every state is going to decide how they're going to administer it. I don't know how it's working in Canada but, you know, the states have pretty much been given free rein to design their own distribution programs and how they decide which communities get it first.
Cathy Ryan 4:38
Pretty much the same here. You know, I think a similar sort of process, each of the provinces have their own Ministry of Health. So they are the ones who can decide what their rollout is, sort of who gets it first and then down the line. So every province has its own system for doing that. I think probably a similar sort of thing to what's happening in the US where frontline workers are, you know, at the front of the line for the vaccine as they should be. And then it kind of goes from there. And, you know, we're seeing the same thing here in Canada as well, as you're seeing in the US where there are a number of people who are leery about it, suspicious about it for a number of reasons. Oh, there was another anti-mask rally here in our small community that I think, attracted probably close to 100 people. I'm not sure how many it was this time, they actually got ticketed. The organizer got ticketed for that, because the people are not supposed to be gathering in large groups in BC right now, because our numbers are up.
Cal Cates 5:40
Yeah.
Cathy Ryan 5:40
So you know, we're seeing similar sort of things here as well. And certainly we're seeing similar here in Canada, where particularly in communities, people of color, are we surprised that they have mistrust?
Cal Cates 5:55
Yeah, absolutely.
Cathy Ryan 5:56
Governmental agencies, including healthcare agencies? I'm certainly not surprised because of the inequity. And just the racism that is rampant, you know, here in Canada as well, you know, make no, I certainly don't live under any illusion that what we saw happen in the US last week couldn't happen here. I know it very well could happen here.
Cal Cates 6:19
Yeah. Yeah, I think the conversation of equity around vaccination, I hope will continue to stay alive. And not just the conversation, but action in that area because I, you know, even as we talk about, quote, frontline providers, we're thinking of healthcare providers, right? We're not thinking of the Amazon delivery drivers and the people who work in restaurants and the people that we have sort of...
Cathy Ryan 6:41
Grocery stores
Cal Cates 6:42
...forced into working because we're not willing to make those sacrifices and really don't consider those people frontline providers, but many of them have become sick in, you know, propping up the lifestyle of convenience that we've created for ourselves that we've really got to look at that. And then certainly globally, I think there are entire countries that will be very slow to get the vaccine and areas of countries that, you know, just the, it was sort of a land grab when the vaccine doses were available and the richest nations got them and that continues to be how things happen. So we have a lot of work to do as individual countries and as a planet of citizens. Perfectly timed, actually, to have our guest join us today. We are joined by Davonna Willis, who's joining us from sunny but a bit chilly today, we're told, Arizona. Davonna has been in the health and wellness industry for about 20 years and in various capacities, and has a Master's in Arts from Columbia and a BA from Xavier University and lots of lived experience that brings incredible value to what she does. So thanks for joining us, Davonna.
Davonna Willis 7:56
Good morning, everyone. Thank you for having me. I'm so excited to be on a podcast this morning.
Cal Cates 8:01
It's our pleasure, we were so excited to learn about you and to learn about what you've learned in in your community. So tell us some things - What are you, what are you up to, Davonna? What is your practice look like right now? And then and then we'll talk a bit about the Facebook group you created and what we can learn from you and your colleagues.
Davonna Willis 8:22
Sure, absolutely. So first, I have two practices. One is seeing, you know, everyday people, my clients that I see regularly. My business is called Blue Skyes Massage & Wellness Center. Because of my background is sports medicine and physical therapy, I actually collaborate both of the sports medicine side doing more physical therapy, total body corrective therapy, as well as medical massage therapy in order for my clients to get the overall health and wellness, the overall health and wellness for their needs and their body. And then within a year ago, I actually started 4 Nineteen Education & Training, which is my CEU program as well as small business coaching, based off of all of my experience whether you know, in private practice, as well as in the sports medicine field. I felt it was time for me to give back to the therapist and expand on their knowledge and their education, because they're needed. And you know, I'm only one person and I can't help everyone so why not educate the therapists so they can help the clients that need our services as well.
Cal Cates 9:43
Awesome. Yeah, a lot of a lot of us went online last year. And I really appreciate your perspective, too, that you know, one of the reasons so many of us teach is because we know we can't, we can't throw every starfish back. So the more people we empower to be able to be of service to our fellow humans, the better.
Davonna Willis 10:03
100%.
Cal Cates 10:05
So one of the main reasons we invited you to join us today, Davonna, is because you, sometime last year, you created a Facebook group and it's continued to grow. And I'd love for you to tell us about, what is the group? Why did you start it? And what have you learned so far? And what have you learned that we can also learn from?
Davonna Willis 10:29
Sure. So last year, in the midst of all what was going on here in the States, with the George Floyd case, with Teyana (sic) Taylor, there was a outcry of representation for Black Lives mattering, not necessarily the, it was more of a movement not necessarily just the group itself. And with that said, there was a growth of individuals looking for Black-owned businesses. And I was also looking, I already started shopping more Black-owned businesses. But I was looking for a group, because I'm already part of quite a few Facebook groups, but I was also looking for some representation of massage therapists, Black massage therapists. And I didn't see that many. For many years, where I was located and working in Gilbert, Arizona, at one point, I was told that I was known as "the Black massage therapist", right? So obviously, it's not that many of us. And in the East Valley, where I am in Phoenix, it's, you know, the Black population is not as vast as it is in Phoenix or more on the West Valley of Phoenix. So I started exploring and looking on Facebook and looking at groups and I didn't find any. So I prayed about it because I was like, I know this is gonna be another undertaking. So I said, you know what, I think it's time for me to start one. And I did. And basically, I kind of recruited from some of the groups that I was already in, I was like searching to see if there was any. And I said, please share, just like how you would tell a client to refer you any of their friends or family, I pretty much asked them to if they know any other Black massage therapists, whether you know, African American, or Black American, or Caribbean or African, you know, they're Black massage therapists at this point. And so slowly but surely, we started to grow. So that was like end of August, beginning of September. So now right now, we're January - I think today's the 12th - so we have over 300 therapists in the group and we're slowly growing every day. So, at this point, I'm very, very particular who could join the group, I do vet them out, you do have just ordinary citizens who want to join a group because they're like, wow, there's a Black massage therapists' group. I do allow them if they are looking specifically to hire therapists or they're looking specifically for Black therapists, that they could put their requests in, and that I usually posted and matched the person up with whoever responded to the post. And so yeah, so, in a group, we have great conversation. It's, I have it private for a reason because I want them to feel as if they can talk about whatever topics they want to discuss. If it's on, you know, client, you know, asking specific questions, client related, or if they're going through any issues at their job because of their race or their sex. Or, you know, recently we've had the discussions like you guys were just discussing on the vaccines. And I did pose that question. And it was quite interested, it was a long thread. You know, some were for it and a lot was against it. And it was because of what is well known in, at least our history, in regards to what occurred with vaccinations, you know, for amongst Black people and our ancestors. So yeah, so it's been, it's been a, it's been a great ride so far and I've enjoyed meeting a ton of people across our country. I haven't had anybody yet, Cathy, in Canada. But you know, we have, we have, it's national in the States right now.
Cathy Ryan 15:00
Well, I'll have to do something about that I'll have to get the word out.
Davonna Willis 15:04
Okay, there you go, there you go. Please, please let them know that there is a group for them that they can feel and be a part of.
Cal Cates 15:15
And I want to say too that, you know, as we get into more about kind of the conversations you all have been having in your group that, you know, I recently, we got some feedback I wrote in my column, in Massage & Bodywork Magazine last month, it was about equity in massage therapy. And I think it's really easy to, and we learned this when we received some feedback that, if you look around you and it, and it either looks diverse to your perspective or the people that you see, in your practice, don't have any problem paying, for instance, you don't necessarily see a problem. And I think that the, the disproportionate representation of Black providers in the massage profession is, is one such place that, you know, it is a very white industry. Most recent estimates, which we can only make by sort of guessing based on some sort of data collected by the Bureau of Labor Statistics, it's like 8%, possibly. And if we consider that 15% of, 15% of the US population is African American, that means we've got some work to do if we want a sort of equal representation. I mean, certainly, we have a lot more women in massage too. So maybe work on bringing some more men into the profession. But there there is a disproportionate representation. And when we talk about, I think those of us who have read a lot, know a lot, lived through the things that have created mistrust think everybody sort of knows, but I think even even African American people who are maybe in their 20s or 30s, at this point, they sort of hear Tuskegee and they know that was bad, but they don't know exactly what happened. And that, you know, people weren't even told they were in a study and the study, quote, unquote, went on for 40 some years and people were allowed to, were in fact, health care providers watched their syphilis progress, and kept the information from them that there was a vaccine available, that there was treatment available, and that, you know, forced sterilization and again, sterilization without consent was happening, even until the mid 80s. And still in small pockets is happening, and that it really is a well founded mistrust of the healthcare system. And I'm not as familiar with the Canadian situation but I know that, you know, indigenous peoples in Canada and African people in Canada have experienced similar marginalization and just sort of being treated as non human. And that is, you know, we're living that legacy right now. And that is something that is gonna take a lot of work to, to undo.
Davonna Willis 18:03
Right, right. Yeah, it's systematic, right. So it's systemic and where... we don't, we were taught this, but we weren't taught this, right. So we, a lot of us weren't taught this in school. This wasn't something that was passed on to us, from education from school, this is passed on, based off what goes on in your home, then when you have these type of discussions, and so it's passed down generation to generation. It's really going on, and we just have to know what happened in the past and how it's going to affect us in the future, and to build that trust in our government and our healthcare system.
Cal Cates 18:50
Absolutely. Well, and I remember from a conversation that you and I had, Davonna, back sometime late last year, where you were talking about what it's been like for you to practice where you live. And one of the things that really stuck with me, was that you had talked about not having a photo of yourself on your website, and that you had had clients sort of show up and you could see them, like their faces were like, oh, you're Black?
Davonna Willis 19:16
Absolutely.
Cal Cates 19:17
I didn't know that. And that you had intentionally not put your photo on your website, because you didn't want that to be a deterrent. But that also puts you in this uncomfortable position where, you know, racism is right there in your face and...
Davonna Willis 19:30
Rght.
Cal Cates 19:31
I just, I think these are the kinds of things that white providers don't think about, right?
Davonna Willis 19:37
Yeah, it's more of a show and prove, right.
Cal Cates 19:39
Yeah,
Davonna Willis 19:40
I can show you you know, better than I can tell you. So you might see my.. Okay, so for instance, yes, I had my bio up, I have my education as you pretty much read up. So it was like, wow, she's very educated, she knows, you know, what she's talking about. She's had all these years in physical therapy. So obviously, I want to go to her because I do have this sports-related injury or whatever the case may be. Right? So but when you show up and you see someone who you didn't expect to see? Absolutely. And as unfortunately, for many years I did it and not, and I'm not the only one, you know, who has seen about this. But, yeah, you get like, oh, okay. And so you still bring them in, you still go over their health history, you still, you know, inform them, you know, what you're going to accomplish during the session? And then you just let your technique speak for itself. And do they rebook, majority of them did, and in some didn't, right, because they can't get over the uncomfortable factor of. If you haven't been, what I was just having a conversation with one of my clients, and, you know, majority of my clients are white. So let me just put that out there. So I'm going to freely have these conversations, most of my clients have been with me for over, there for over four to five years, the newer ones, they come regularly, so they're hitting one and two years with me. So I, you know, we have these type of conversations. And one of the interesting things is, if you're coming from a location such as Utah, right, so we have a lot of people who come down from Utah to Arizona, if you come in from a place such as Utah, that has maybe zero representation of Black people, whether it's African American, Africans, or you know, Caribbean, you do not know how to interact with such because you had no, like you because you never, no exposure to it, right? And so then you just come with those pre-existing notions, or what the media puts out towards you, you know, in your face on TV, when you've seen, you know, all these, you know, housewives or some of these reality shows that make you think like, all Black women fight if you said something crazy to them, right? Or they throw liquor in your face, whatever the case may be, which is true, which is true. I've had these conversations. And it's like, no, if I don't like you, I'm not talking to you, and you're not in my circle anymore. And period. Like, I have no time to get in a fight. I'm grown.
Cal Cates 19:47
Yeah.
Davonna Willis 19:52
Why? Why do we have this? What are we doing? And you know, for me as I got older too, because I used to watch some of those shows. I'm gonna be honest. You know, it was, it was like, you know, one of those guilty pleasures, but then you're like, Oh, no, as you get more mature, you see how you're being portrayed? Especially me living here in Arizona. Now? I'm originally from New York, the Bronx. Really? Bronx, New York. And you know, when you see that, it's a melting pot. Right. So obviously, you see all sorts of cultures. And I was very comfortable. I was just telling my spouse the other day that no, I don't remember having any type of blatant racism in my face living in New York City.
Cal Cates 23:09
Yeah.
Davonna Willis 23:10
I really didn't.
Cal Cates 23:11
Yeah.
Davonna Willis 23:11
It wasn't really, I, until we moved out here to Arizona that I saw it. And even my mom, we had the same conversation. My mom, my mom was born and raised in New York City, in Harlem. And she's 73 years old, right? And she's honestly, she's like, was there some? Yes, but does she see it often? No. Right. And it's just because of what it was then. New York is a different monster now. So that's not the same case now, because of the gentrification that happened. And that's a whole different topic, right?
Cal Cates 23:46
Yeah.
Davonna Willis 23:47
And a lot of Blacks moved out of New York City, because let's just say it, they can't afford it, right. They've been bought, a lot of the family and generations have been bought out of those brownstones in Harlem and all sorts of things. So, but it wasn't really until I moved out here. So when I have these conversations with my clients, and one client, she, she told me, she was like, she had to leave Utah because she was just like, I didn't like that I was just seeing me all the time. She was she was looking for something different, right, as she was looking for more cultural diversity. So it's just, it's whether you're open to it and you're willing to learn and try something new, or you just take what you see on the media, and what the media portrays a culture to be, to be what that is it.
Cathy Ryan 24:40
Yeah. No, it's, I don't know. It's such an interesting consideration around, you know, I think that's really important point when there's exposure to differences, it seems less threatening, you know. You get to know the person as the person there and they're a person and they're a good person. Or perhaps a person over there is not as a decent person. But you just get to know people as people. Then you go to someplace like Arizona where there's very little representation. And that individual immediately becomes fearful. You know that xenophobic thing. It's like what happens in the brain, you know, because of that lack of exposure of people with different skin tones.
Davonna Willis 25:27
I'll give you another example. I can go on for days about these. But I'll give you another example. I went to a church service with my mom. So my mom has been going to church forever, so she was looking for like the same denomination as the church she was going to back in New York. She lives here now. And so she's like, you want to come? And I'm like, I guess. So I attended the church service with her. So it's predominantly, it's all white. Let's just say it's all white congregation. And I was sitting next to a little girl, she probably was no older than eight or nine years old. And, you guys, she was just staring at me, just like in awe, like, and I smiled, and I said, Hi, how are you? And she was just staring because she's never... I know that stare. She's never seen a Black person in her life.
Cal Cates 26:21
Uh huh.
Davonna Willis 26:22
And it was like, wow.
Cal Cates 26:27
Yeah.
Davonna Willis 26:27
Right.
Cal Cates 26:28
Yeah.
Davonna Willis 26:29
So can you imagine? But at least she's eight or nine and now she saw her first Black person in real life. Right. So but let's think about the adults that haven't ever in their life. So then they have more information, or maybe, you know, negative information about what they think that a Black person may be. And so at least now, she has a little bit of a positive outlook, just from that one interaction. Right?
Cal Cates 27:00
Yeah. Wow.
Cathy Ryan 27:03
And and, yeah, such an interesting perspective. You have a child who's looking at someone with curiosity and, like, wonder, and then that person is exposed to what we see happening in much of media, and perhaps what adults are saying around them. And that totally shifts to something that's completely different as they age.
Cal Cates 27:33
Yeah. Well, I think it doesn't go without saying that if you are someone in Davonna's position, you know, you, to some degree, you've spent your life or at least your life in Arizona, getting the look or a type of stare. And it would have been really easy for you to, almost without even knowing it, kind of stare back at this girl. But you decided to smile at her and say hi, and I feel like it's just, there's such a, there's so much time that we spend when somebody stares at you, you stare back, like that's sort of this human thing that we do, like, oh, what are you looking at? And it's like, you know, you can break this wall that you don't even know is there by just being like, Hi. And they go, oh, crap, you're a person. Right? Sorry, for a minute there, I thought you were something else. Right?
Cathy Ryan 28:23
I thought she was a statue.
Cal Cates 28:25
Exactly. Yeah. Yeah. So when you said that, you were talking about vetting people coming into the group and you said that sometimes employers are interested in hiring Black MTs and I, it raised so many questions and red flags for me because I think about like, sort of, I mean, you can't, you can't protect 300 people but, you know, you've made your space private. People are, business owners are sort of, whether or not they're interested in in equity and ending racism, they know the optics are bad if they are in a community where there are Black people who might be consumers but they don't have a Black provider. And so now they're like, oh, we got to get somebody Black on our staff and, you know, everything that is talked about in sort of diversity and inclusion, and that, it sounds like an opportunity ripe for tokenism and sort of, what, if anything, can you or do you do to kind of say like, so like, don't be coming in here and picking people so that you can say you have a Black person. Like what kind of things do you have in place to actually, the reason you actually want a Black person on your staff is so that the voice of the lived Black experience can be part of your staff. And so don't invite this person in to be acculturated into your whiteness, which by the way has already happened.
Davonna Willis 29:42
Right? Funny you say that so honestly, Cal, it hasn't actually been employers, it's been other Black individuals.
Cal Cates 29:53
Oh....
Davonna Willis 29:54
Right. Right.
Cal Cates 29:56
The people who haven't really been employers...
Davonna Willis 29:59
Exactly. There are African American employers in the group that's posted.
Cal Cates 30:09
Okay.
Davonna Willis 30:09
But a non, but a non-Black person, a white employer has not yet. So that makes it interesting.
Cal Cates 30:20
Yeah. I was wondering when that happens.
Davonna Willis 30:22
Now, right, so when that happens, I will say, you know, because I see, you know, based on reading some of the things that people post that, yeah, that they need to be educated. So, but yes, we haven't had that yet. So it's actually an individual looking, or the Black employers that have businesses, they actually post their own.
Cal Cates 30:33
So one of the things that we had sort of asked was, if you'd be willing to pose a handful of questions to the community and you're like, well, a bunch of these we've already talked about. But here's a couple others. And I'm curious, if you, would you be willing to share sort of some of what, some of the questions you posed and what kind of responses you got. I mean, I really, we can't, we can't learn enough from you and from your direct experience, and the experience of the people in your group about how to just stop messing it up.
Davonna Willis 31:20
Right. Right. One of the biggest questions I asked, and this was towards the beginning of the group, and it was, it's for the black males, right. So I wanted to know, how are they treated in the industry, period? Right. So if you look at it, they have two negatives.
Cal Cates 31:40
Right? Oh, my gosh..
Davonna Willis 31:41
A male and then you're a Black. And I found it interesting in seeing some of the answers. It was based on location. So some of the East Coast, and you know, Atlanta, Florida, South, the southern states, like, Oh, it's been fine. More people are open to it. You know, I'm educating. But I found more the Midwest and the West Coast, maybe one or two was like, Oh, yeah, it's been fine, but I have more issues. And it's been harder for them. And they blatantly see racism and people blatantly like, I don't want that Black guy working on me. Like so they....
Cal Cates 31:55
Wow!
Davonna Willis 32:10
Oh, yeah, absolutely. Absolutely. It's been stated. Right. So, as you're shocked about it, I'm not.
Cal Cates 32:46
No, I know.
Davonna Willis 32:47
Right? Because people are like, no, I don't want that person. And so it's just been, it's just been interesting. It's still hard. You know, they're still women that don't want a man to touch them. They're still men that don't want a man to touch them. But more of the guys, you know, it's a mix, it's a mixed batch. We have some that do more energy work, and love life and love love. He was like, Oh, I don't want to see color. Whoever comes to me. And we were like, yeah, that's great, but in reality that doesn't happen.
Cal Cates 33:20
Right.
Davonna Willis 33:21
It does happen. Right. And then you see, he had a guy like, listen, I just had somebody the other day and say, they didn't want me to work on that blatantly in front of my face when I was about to come get them. Right. So we have a lot of work to do. We have a lot of work to do.
Cal Cates 33:37
I want to pause because I, like you're telling this story, and like, I'm shocked, not shocked, you're definitely not shocked. Cathy's sort of like just, like resigned, you know, her facial expression. But I just want our listeners, particularly our non-white or our white listeners to imagine that, when you go to work, Let's say you're working at a spa, where they say here are the people you're going to see today, that every time you walk toward a new client, they might reject you. Before you even like say hi, that as you walk into work today, you go oh, like I hope everybody I'm seeing today has already seen me so I don't have to deal with this. And like every day, you're wondering how many people are going to be like, mmm, or they won't say I don't want to work with you but you'll spend an uncomfortable hour knowing that they wish they had a white provider. Oh, and like, this is the kind of thing that I feel like we just really have to understand, like it's not just, oh, some people are jerks. No, this is like a slow eroding of your sense of like, do I want to leave the house today? It just feels, I just can't, I ugh, yeah. So what other, what other stuff that comes up in the community that like are things that we can be so much more aware of?
Davonna Willis 35:01
Yes, so I'm looking at some of the questions. Some said, one of the questions was, besides the group, have you experienced support in the massage community as a Black therapist? If so, how? Some felt that it was a loaded question, right? Because it was like, mmm, I want to say yes, but sometimes I feel like it's a no. So, for instance, some people did feel like they did have the support of their teachers and their instructors from when they you know, went to school, and they can always go back and maybe ask questions or felt comfortable enough. But they did find it harder, once they are in the field, to feel that sense of longing and being a sense of one with the group of colleagues. There are some that actually felt that, if you partner yourself with other Black providers or maybe even Hispanics and someone who looks similar to you, that they felt a little bit more welcoming. But then is also in our community, the crab, the crab in a barrel mentality. So I'm not, I'm not going to show you how I made it.
Cal Cates 36:21
Oh, yeah.
Davonna Willis 36:22
You're going to have to figure that out on your own.
Cal Cates 36:23
Uh huh, interesting.
Davonna Willis 36:26
So we have that, we have that also going on in our own community, unfortunately.
Cal Cates 36:31
Yeah.
Davonna Willis 36:33
And so that's not my mentality, obviously. But there there is some or I don't want to tell you the secret.
Cal Cates 36:40
Yeah.
Davonna Willis 36:41
Don't want to tell you the secret, because if I tell you the secret, then you got to try to take from me, especially if we're in the same area. Right, especially if we're in the same area. So we've had that too. But it's, it's a mixed bag, it's a mixed bag. For the most part, this has been one of the biggest support groups that they've had. But, you know, I'm happy that some felt more comfortable in actually reaching out to old mentors and teachers from their schools...
Cal Cates 37:10
Yeah.
Davonna Willis 37:11
...to feel supported.
Cal Cates 37:13
Yeah,
Davonna Willis 37:14
Yeah. It's a lot to digest, right?
Cal Cates 37:20
It is a lot to digest. And I feel like, you know, I wonder, you know, we've talked about sort of, what do you, what do you do, and in our Massage Therapy without Borders podcast, we had a great guest who, you know, she said, like, if you're not in a community with a lot of people of color, like, don't just go out and get yourself a person of color, like that's not, you know, you can still do advocacy in your community. That doesn't involve, you know, tokenism. But I think we also just think there aren't any people of color around, like if we live in a sort of more white community or if our clients are white, we think, well, if, you know, Black people wanted to get massage, they'd get massage, and it's like, well,it's not really that simple.
Davonna Willis 38:03
No, It's not that simple because we're not educated, number one. That's not even, that's not even a career we're talking about in, talked about in school. Let's start with that. Right. So I kind of, my background is different, but that's not even a conversation that happens. Massage Therapy. What? You don't know, I didn't even know about it, I didn't even know about it until I was majoring in athletic training as Xavier University. I was working with my athletes. We had a massage therapist so we were doing regular rehab, physical therapy, sports medicine rehab, we had a massage therapist come in to provide sports massage. That was my first introduction. I'm about 19, 20 years old at this point.
Cal Cates 38:52
Yeah.
Davonna Willis 38:53
You aren't with Dan.
Cal Cates 38:54
Yeah.
Davonna Willis 38:55
Right. And so once again, yes, we will show the techniques during our manual therapy, one of our classes, but to really meet a massage therapist and speak and have a massage therapist to speak to and introduce what the field is, that did not happen until I actually ran into her by accident in the training room. And that's when she expressed, because I was like, I've always been curious and I'm a logical person. If it makes sense to me. I'm like, okay, I want to I want to do this. She basically was like, you guys are doing a rehab but what I do is help with the flexibility and breaking up the scar tissue when they have an injury. Perfect. I got it, makes sense, I want to look into it once I'm finished school. Right. So that was my introduction. So now let's speak down to, you know, like, even in an elementary school, you, all you hear is doctors, lawyers, teachers, firefighters, police officers....
Cal Cates 39:54
Yeah.
Davonna Willis 39:56
...nurses. That's it.
Cal Cates 39:57
Right.
Davonna Willis 39:57
That's it, right, and now probably a little bit more engineers because now we have the apps and games and stuff like that. But that's about it. You don't hear about massage therapy. And then,if you do hear about massage therapy, and once again, let's go back to the media, how it's portrayed, it's portrayed for the high elites. It's something that you have when you have money, going to the spa!
Cal Cates 40:19
Yeah, that's right.
Davonna Willis 40:20
Right. Right. Remember back in the day for us? Probably now they do have a newer one but remember "Dynasty"?
Cal Cates 40:26
Oh, yeah.
Davonna Willis 40:28
Right, right.
Cal Cates 40:29
That's right.
Davonna Willis 40:30
Exactly. Right. And so, you know, it was just like, it was just like, oh, that that's fantastic. Are you have some, you know, you know, you watch a commercial and you see, they're on the beach and they're getting a massage, right? That's what it looked like. It doesn't look like something that's attainable, that you can get for your health and your well being. Yeah, it was it was out of reach. It wasn't discussed. So now, as a community, also, one of the things that we discuss is, how can we reach back to our community to let them know that it is attainable, it is for your health, it is for your well being? It doesn't have to cost, you know, $400 for an hour or $300, you don't have to go to a spa to get that, right? And so where, it's like re-educating, it's actually no reprogramming.
Cal Cates 41:20
Yeah.
Davonna Willis 41:21
It's, it's reprogram the whole mindset.
Cathy Ryan 41:24
And I think that's our collective shared issue in the profession, right?
Davonna Willis 41:29
Yeah.
Cathy Ryan 41:29
I mean, I think, like yourself, Davonna, I didn't know anything about massage therapy. It was, I happened to, injured myself playing softball and there was a massage therapist working at the facility where I was working out, and that was my first exposure. And I'm like, Oh, my god, that was amazing. I got to go do that. You know, so I think that's the case for many of us, as you say, you rarely see it at like the Career Day in school, and certainly not back in the day when I went to high school back in the 70s. Going way back here. Definitely nothing about massage therapy out there so that is their shared collective experience that I think that all of us can work together to inform. Yeah.
Cal Cates 42:14
Yeah, well, and changing the... I mean, I was talking with another Black provider a couple weeks ago, and she was saying, you know, in addition to just no examples in your community, there's also this cultural idea that sort of, that because massage is pampering, and because it's become this thing of like, you know, oh, you're just going to relax, which, first of all, we can do a whole episode about how much different our world would be if we were all getting a relaxation massage on a regular basis. But that you have to, in addition to getting over the logistical and community hurdles of lack of access to other providers, you have to get over this cultural idea of like, I'm worth this, I deserve to get this kind of care. And so there are lots of obvious and not so obvious hurdles that, certainly the way we portray what massage therapy is and does, could at least lessen some of those hurdles.
Davonna Willis 43:12
No, absolutely. Absolutely. I think people are slowly, they're slowly learning. But that's our that's all of our jobs, right, is to educate them. Yeah, that's what I do every day.
Cal Cates 43:25
Yeah.
Davonna Willis 43:26
The one of the things I hear all the time from my clients from my regular clients, not necessarily the students is just like, wow, I wish I would have known this, you know, a couple of months ago, a couple of years ago, right, after they tried this, that, surgeries, chiropractic, you know, whatever they did and didn't, they didn't get the results they were looking for, you know. So that's important to know.
Cal Cates 43:52
Yeah, definitely. So do you, can you, I mean, obviously, there's the benefit of community, but sort of what are your hopes for the group? And what, what have you already seen, that gives you hope about this gathering of people that you've collected on Facebook?
Davonna Willis 44:12
The networking has been amazing. And the friendships that are starting to develop is great. And, and just, you know. So for instance, I'm going to Florida. well, I'm going to Florida in, I think, wow, it's next week already, to teach a lymphatic drainage class. And some of my, some of my colleagues that I've met in the group are going to attend. They have already registered. Would that have happened prior to me starting the group? Probably not. So we're looking forward to, like hanging out and meeting each other and you know, and so, I'm excited about that. You know, I met Terence, which is another, he's a Black provider, continuing education provider as well. And we've became friends over the last couple of months. And we teach totally opposite, you know, techniques. So he's more the spa side, I'm on the medical side, but we complement each other. And so he can share his material and we support each other. And so that's been fun. So I think the friendships and relationships, I see how people interact with each other through the thread. And you know, the laughing and you know, we have, it's, it's good, it's good. It's good. Like, I don't know, if you guys know about this whole new app called Clubhouse. This is a whole new app, and how you can meet different people and represent mostly for your businesses or your industry. And so, you have other, you know, people like, oh, if you want to join here, look for me here. And you know, I can let you in, because I guess is by invite only. So people are opening themselves to invite others that they might not know, per se, but because we have this camaraderie in the group, they're like, listen, just find me and I'll let you in so you can be a part of this software, so it's, it's good. I'm excited, I want it to continue to grow. My hope is, one day, we can actually have a conference, right. You know how that the AMTA and, you know, NCBTMB have conferences and the World Massage. I would love to have a conference, that'd be great if we can get that organized.
Cal Cates 46:32
Yeah.
Davonna Willis 46:32
So you never know. It's still, it's still in the infancy stages, right. And so I ask for feedback from, you know, some of the other therapists and I'm going to probably invite have one other moderator to help me because I can't vet, you know, vet everything and, you know, I have other things going on so probably having, you know, an additional moderator. I'm seeing, I look for those who's more active in it and give great feedback and advice.
Cal Cates 47:04
Yeah.
Davonna Willis 47:05
Right.
Cal Cates 47:06
It's good idea.
Davonna Willis 47:06
To kind of help me out with the group and stuff. Right? Because as it grows, I'm not going to be able to manage everything. I do consistently have days, you know, every day, I have a specific topic. So like, for instance, Mondays are motivation. Motivational Mondays, you know, having a quote from, you know, someone historically in the Black community. I'll have too, is Tip Tuesday or Therapist Tuesday, you know, we talk about a topic like this today is like, what techniques do you use for headache. And Wednesdays I typically post, whether it's any type of classes or something that I'm giving, I usually post that. And then, obviously, people are posting during this time, too. So I have days that I post but, if someone has a question, right, they can post their questions. It doesn't matter if I post it or not. Thursdays, it becomes Testimonial Thursdays or Thankful Thursdays or whatever, something encouraging. So they can actually feel good, you know, in spite of what's going on in the world, you still have clients who love you and appreciate you, you know, you're still thankful for your family and what you do and so forth like that. And then Fridays, I have Black Fridays, which is more of an empowerment, you know, what inventions that, you know... A couple of weeks ago, there was a Black woman scientist who is producing the cure for cancer and, which is amazing, and so that was, that was an article what she's doing. And actually one of the therapists is a family member of hers. Who would have known?
Cal Cates 47:23
Nice, yeah.
Davonna Willis 48:12
So yeah, and then Saturdays, we have a free for all and then Sundays, we have Fun Sunday. So yeah, so we, I try to keep it fun and light. And then we have great conversations in between, you know, the topics I post and other topics people also post.
Cal Cates 49:14
Awesome. Yeah, I think the more we can, we can all educate each other about the existence of things like this and just to, to think about coming together to build community and to ask questions and have real conversations, because I mean, certainly we have an issue in the massage profession but, as this is Interdisciplinary, we see this in other disciplines as well. And just that there are certain practices that just, there's no representation, there's no sort of sense growing up as a kid that, you know, you would be this type of provider or that, you know, this might be a career path for you. And so, I think we can all learn across the board about ways to improve that access and just to mentor each other and make space for all of us to be serving each other.
Davonna Willis 49:58
And I just have one ask or a few asks, you know, because I think you guys posed this question in the beginning, what can you know white providers or employers do for Black therapists or African American therapists or so forth? Basically treat, treat us as a person. That might sound so simple, but it's the truth, right? Treat us as a person, treat, understand if there is a disparity going on in your place of employment, please educate your clients on such, right. You know, having a newsletter saying, you know, we have great therapists with, from different backgrounds and techniques, because sometimes that's what it needs, to be stated.
Cal Cates 50:46
Yep.
Davonna Willis 50:48
So the therapist can feel supported...
Cal Cates 50:51
Yeah.
Davonna Willis 50:51
...from their employer.
Cal Cates 50:52
Yeah.
Davonna Willis 50:53
And I think that would be great. As providers and as colleagues, I would just say, speak to them, get to know, get to actually know the therapists, the Black therapists,
Cal Cates 51:09
Yeah.
Davonna Willis 51:10
Right?
Cal Cates 51:11
Yeah.
Davonna Willis 51:12
Try to get a couple of friends, get educated because we're all different too.
Cal Cates 51:17
Yeah, turns out, you know,
Davonna Willis 51:19
We're all different. It's funny, because I remember we posted something about foods or what you guys eat or whatever. So, you know, by brothers and sisters on the West Coast, we're having some soba flavors or recipes I've never heard versus what's on East Coast and what we eat. You know, so it's different.
Cal Cates 51:19
Yep.
Davonna Willis 51:20
It's different, we'e people, right, but get to know us as an individual and don't always clump us up as a group and not get to understand what's going on.
Cal Cates 51:51
Yeah, yeah.
Davonna Willis 51:53
Does that makes sense?
Cathy Ryan 51:55
That I think is the singular, most important takeaway of these conversations that we're having is that we are all human, have a conversation and get to know each other, and then make a decision around I like that person, that person's not for me, but have, you know, open the door to have a conversation with the other human being that's standing in front of you.
Cal Cates 52:20
Yeah, and don't, and don't just say, of course, you're a human. I don't, I think of all people as human, that is not helpful. If that was true, we wouldn't be here. So, yeah. Awesome. Well, we will look forward to doing what we can do to inform and educate, and just partner with our colleagues. And, and thank you so much for your time and joining us today, Davonna, and just for what you're doing in the profession and certainly for our fellow providers, who are also people of color, and we want to, we want to be more connected and to really welcome you more fully into the profession. So...
Davonna Willis 53:01
Thank you for having me today, and I really enjoyed our conversation, and I look for us to continue to partner with each other and grow.
Cal Cates 53:11
Thank you all for joining us for another episode of Interdisciplinary, the Healwell healthcare podcast. Go give us some likes on Apple Podcasts and all the places that you get your podcasts. Join, subscribe, stay tuned. We've got all kinds of uncomfortable conversations coming up this season. So we thank you for making the leap. And as always, thanks, Cathy Ryan, for being my fearless co-host.
Cathy Ryan 53:36
My pleasure, my friend.
Cal Cates 53:38
And we'll see you guys next week.
Rebecca Sturgeon 53:45
Interdisciplinary is produced by Healwell. Our theme music is by Harry Pickens. You can send us feedback at info@healwell.org. That's info@healwell.org. New episodes will be posted weekly, via Apple Podcasts, Spotify, and our Facebook page. Thank you.
Transcribed by https://otter.ai