How will you show your love this year?
November is upon us, friends... and that means philanthropy!
Here's the thing about philanthropy though. It actually comes from the Greek words philein and anthropos which translates to "love of humankind."
In a world where you can be anything, why not be kind and generous?
As Healwell works to change the way the world does its business, an important way to show your love is in the form of dollars that allow us to create new and better and more personalized, compassionate care for people affected by serious illness.
Last year, we welcomed more $20/month donors to the Healwell giving family than we had in any previous year. That's amazing! People who give -- who LOVE -- on a monthly basis make our work possible and when lots of people give what they can, those people change the world.
Maybe this is your year to put your money where your heart is.
Do you love Healwell?
Do you love how it feels inside you when you imagine a world in which there is a skilled, compassionate massage therapist at the beside, at the chair side, in the life of every person affected by illness?
And? The first $10,000 that we raise this month will be doubled, thanks to the generous members of our Compassionate Champions Circle. So give now!
Thank you for carrying Healwell in your heart and thank you for making the choice to love all humankind with your contribution to our work. We can feel it.
Now, you may be thinking, "That's great, but what's with the mustaches?"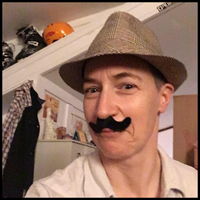 No-Shave November was created in 2009 to "grow" awareness about cancer and the hair loss that is commonly a side-effect of cancer treatment. The holiday's organizers encourage people to embrace their hair and let it grow "wild and free" during the month of November. They also recommend donating the money you'd normally spend on hair care and hair removal to organizations that support people affected by cancer.
At Healwell, we're taking it a step further. (You'd expect nothing less, right?)
Healwell is all about equity and access. We want to create a world where everyone affected by illness can have access to the services we provide. We need your help to create that world.
Also? We think anyone who wants to rock a mustache should be able to.
Also? We think fake mustaches are funny. So we're handing them out!
When you donate to Healwell during the month of November, you'll receive a thank you card with a fake mustache. The bigger the donation, the bigger the mustache!